CHOOSING A CHAINSAW - A BUYER'S GUIDE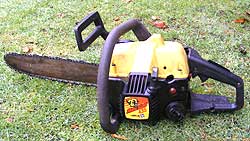 A chainsaw is a very useful tool to have for garden chores.
Different types of chainsaw can be used to carry out a wide variety of jobs aroud the garden.
A chainsaw has the power to tackle tough timber and wood cutting jobs such as chopping down trees and sawing up logs ready for a log fire.
It is important to choose the correct type of chainsaw for the job.
A chainsaw can quickly go wrong and need repairs if it isn't powerful enough for the chosen task, and a chainsaw that is more powerful than is needed can be too heavy for light gardening tasks.
WHAT IS THE BEST TYPE OF CHAINSAW TO BUY?
The choice of chainsaw depends on the type of woodcutting that you will be doing.
If you only want to tidy up the garden and remove the odd tree branch then you don't really need to buy an expensive professional grade of chainsaw.
But if you will be regularly chopping firewood, or using your chainsaw daily, don't buy a cheap chainsaw, a reliable high quality chainsaw is a good purchase.
Also consider the type of wood that you will be cutting with the chainsaw. Hardwoods require a more powerful chainsaw than softwoods.
WHAT TYPE OF POWER SHOULD YOU CHOOSE?
Chainsaws are available with 2 types of power - electric or petrol.
Electric chainsaws are good for small projects. They are lightweight, quieter easy to start and need less maintenance than petrol chainsaws. However, they are less powerful than a petrol chainsaw, and there safety issues to conside with a trailing electric lead. You also need a nearby source of electricity.
Petrol Chainsaws are essential if you are going to be cutting trees in farms, woods and large gardens, as they don't require a mains electricity supply.
WHAT SIZE CHAINSAW TO BUY?
Chainsaws are sold in many different sizes and are measured by bar length and engine size.
Engine size is used to describe the size of a petrol engine - this is measured in cubic centimeters (cc). The bigger the engine size the more power your chainsaw will have. A chainsaw with a larger engine can handle tougher jobs.
The Bar length of a chainsaw refers to the cutting area of the chainsaw blade and the largest size piece of wood that the chain saw can cut in a single pass.
When deciding what size of chainsaw to buy take into consideration that the chainsaw's actual safe cutting ability is double the bar's length, eg. a chainsaw with a 12" bar can cut through a 24" log.
OTHER USEFUL GARDENING ARTICLES ON GARDEN GROWER
Advice about buying a chain saw - how to choose the correct type of chainsaw for the job. Advice on chainsaw engine power and bar length.