THE IMPORTANCE OF A GARDEN SHED - Art Johnstone
We used to enjoy visiting our Grandparents when we were young because they had such a wonderfully large garden with so many mature trees which were great for games of hide and seek, and for climbing of course.
Both my sister and I were fascinated by watching our Granddad carefully weeding between the rows of onions in his vegetable plot, or checking his carrots to see if they had been visited by the "dreaded fly", so it came as no surprise to him when we asked if he could spare some garden for us to have our own little plot.
He was delighted that we took so much interest in his hobby, and when our next opportunity to visit him came round we were over the moon to find that he had set aside an area for us to make our own raised bed.
All we needed was there, but he believed in encouraging us to build it ourselves rather than having it done for us.
Nevertheless, he had raided his beloved garden shed to provide us with the wherewithall; four stout lengths of floor joists for the sides and some wooden stakes to hammer in to the ground to keep them in place, and I remember that he even provided us with a saw (which he supervised when we used it) to cut things to the proper size.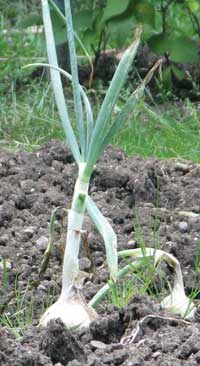 I secretly believe that he was as pleased as punch that not only were we becoming interested in vegetable gardening, but his decision to let us make the raised bed instead of him doing it was helping to make us less reliant on other people later on in life, and in that he was spot on.
Like a great many retired people, our Granddad spent as much time in his garden as possible, but there were times, because he was getting on in years even then, that he felt the need for a sit down and a doze in his garden shed, though he fervently denied ever falling asleep, so we pretended that we had never heard his snores!
That shed was his sanctum and woe betide anyone, including his our Grandma, who entered there without permission.
Tools were hung in military fashion on the walls, just as you would expect from an old soldier, and there was a battered old desk whose draws were full of aged, musty gardening books, some with flattened spiders between the pages, and all dating from way before we were born.
So many years later I still remember the old man and his kindnesses, his helping us to take an interest in gardening and his ability to point us towards self sufficiency without our being aware of it, but most of all I remember him every time I go down to my own vegetable plot, because you see, I inherited his garden shed.
Article by Art Johnstone
www.logcabinhome.co.uk : Garden sheds and buildings
OTHER USEFUL ARTICLES ON GARDEN GROWER
Importance of having a garden shed