POPULAR VARIETIES OF COLCHICUM
The European Colchinum Autumnale bears lilac-rose flowers during September; there are several varieties of this kind, including forms with single and double white flowers.
C. speciosum, from the Caucasus, has unusually large, deep-lilac flowers, during September; the white variety speclosum album is very beautiful.
C. byzantinum, from Greece, bears rose lilac flowers in September.
The yellow-flowered C. luteum, blooms in February.
The Giant has very large lilac-pink cups

PLANT SOCIETIES
COLCHICUM - AUTUMN CROCUS - MEADOWSWEET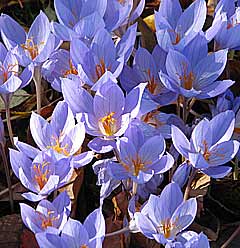 Colchicums aka Autumn Crocus or Meadowsweet are charming plants with crocus like flowers borne generally in the autumn, and unusually large leaves which do not appear until the spring.
Although they look like crocuses, colchicum belong to the lily family - Liliaceae - not the iris family, which is the family the crocus belongs to - colchicums have six stamen, while the crocus has only three .
The root of the colchicum is an elongated corm.
Colchicum are found wild in various parts of Europe, Kurdistan, Afghanistan, Persia and North Africa.
Most types of Autumn Crocus are easily grown, but the plants take up a lot of room in spring and early summer when the leaves are developing.
WHERE TO PLANT COLCHICUM
To prevent the blooms being spoilt by soil splashed up during wet weather the bulbs should be planted among low-growing ground cover plants, or in grass.
If autumn crocus are planted and naturalised in grass the leaves must be allowed to die down before the grass is cut.
Colchicum are also suitable for growing in a rock garden, or may be massed in partial shade among leaf-losing trees.
If you would like to create a drift of colour without having to buy a lot of plants, C. autumnale is ideal, as it increases quickly. Just a few corms planted under a tree or large shrub will increase at least fourfold in a few years.
The small kinds, if potted in August, in a compost of equal parts of loam and leafmould, are exceilent plants for the cold greenhouse or living-room.

WHEN AND HOW TO PLANT COLCHICUM
The corms of colchicum should be planted 6—9 in. apart, the top 2 in. below the surface of the ground, during July or August.
The plants ought not to be disturbed unless they show signs of deterioration - then the corms may be lifted as soon as the leaves have died down, separated, and replanted immediately.
Seeds of Autumn Crocus or Colchicum are sown in July, in pots filled with sandy loam and leafmould, and covered with half an inch of sifted soil; the pots are placed in a cold frame.
When the seedlings are one year old, and the foliage has ripened off, the corms or roots are taken out of the pots and planted out of doors, 3 in. deep and 4 in. apart
The corms flower in 3—5 years from the time seeds are sown.
---
---
GARDEN GROWER ARTICLES AND GARDENING ADVICE
Colchicums, Autumn Crocus , Meadowsweet, propagation, care