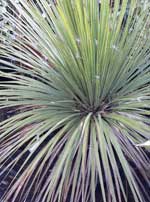 Palms are architecturally beautiful plants with striking evergreen foliage. When palms are properly planted and cared for they can add value and beauty to your property.
Nurseries in the UK will select palms and palm trees specifically for their hardiness and suitability for growing in the UK climate.
Examples of palms suitable for a British garden include cordyline australis, chaemerops humilis, Mexican Blue Palm and the hardy trachycarpus wagnerianus.
Buying a palm from a Nursery that specialises in palms will help you to choose to the best plant for the conditions in your garden, and the palm will have been well cared for prior to purchase.
Amulree Exotics - Norwich
Specialising in Hardy & half-hardy plants for home, garden & conservatory. Palms, bamboos, bananas, tree ferns, cannas, gingers, cacti, succulents & much more.
The Turnpike, Norwich Road, Fundenhall, Norwich
Norfolk NR16 1EL Phone: 01508 488101
Big Plant Nursery - Ashington, West Sussex
Specialising in Bamboos, Hardy Exotics, Palms, Ginkgo, Betula.
Hole Street, Ashington, West Sussex RH20 3DE
Tel: 01903 891466, 07957 262845
Athelas Exotic Plant Nursery - Ninfield, East Sussex
Hope Cottage Farm, Hooe Road, Ninfield, East Sussex TN33 9EL Tel: 01424 893593
D Griffin - Maldon, Essex
Specialise in Yucca and Agave. All plants available in small numbers. Open by appointment only.
Alafin, Langford Road, Maldon, Essex CM9 4SU
Phone: 01621 858384 / 07725 876187
John Churcher - Fareham, Hampshire
Speciality Hardy exotics for the Mediterranean style garden, including palms, Musa, tree ferns, hedychiums, Agave, cycads, Aloe, Opuntia and echiums.
Opening times By appointment only. Please phone or email.
47 Grove Avenue, Portchester, Fareham, Hampshire PO16 9EZ
Tel: 02392 326740 / 07917 350928
Email johnchurcher47@btinternet.com
Palm Farm Ltd - Ely, Cambridgeshire
Hardy Palm Trees, Bananas & Exotic Plants For The Home & Garden All Sizes To Fit All Budgets Just Off The A142
67 East Fen Common, Soham, Ely, Cambridgeshire CB7 5JJ
Telephone: 01353 968551
Seagrave Nurseries – Loughborough
Frost Hardy Palm Trees, Cordylines and Large Pots.
Adjacent to 84, Melton Road, Barrow upon Soar, Loughborough, Leicestershire LE12 8NX
Phone: 01509 621300
The Palm House - Ottery St Mary, Devon
Mail order only, open by appointment
8 North Street, Ottery St Mary, Devon EX11 1DR
Tel: 01404 815450 / 07815 673397
Email george@thepalmhouse.co.uk
Trebrown Palm Tree Nurseries - Liskeard, Cornwall
Trebrown, Horningtops, Liskeard, Cornwall PL14 3PX
Telephone: 01503 240170
Woodshoot Nurseries - Burton-upon-Trent, Staffordshire
Rare and Exotic Plants - Palms, Yucca, Cordyline, Bamboo, Acacia, Agave , Arbutus, Citrus, Dicksonia, Pittosporum.
Woodshoot Nurseries, King's Bromley, Burton-upon-Trent, Staffordshire DE13 7HN
Phone: 01543 472233 / 07802 737676
Email sales@rareandexoticplants.com
Garden Grower Gardening Advice
Nurseries and garden centres specialising in Palm and Palm Trees. Palm Specialists in the UK selling palms and exotic plants. Yucca, Cordyline, chaemerops humilis, Mexican Blue Palm for the garden or conseravtory.