POPULAR VARIETIES OF BOUGAINVILLEA
The best-known kinds of Bougainvillea are Bougainvillea Glabra - carmine rose;
Sanderiana - rose red;
Mrs Butt - crimson; Spectabilis - rose;
OTHER NAMES FOR BOUGAINVILLEA
Bougainvillea is a plant which is native to South America and is known by several different names in the various regions where it is present.
But Buganvílea in Portuguese and Buganvilia in Spanish are the most common names used by the inhabitants of the regions where these languages are spoken.
In Brazilian Portuguese it is often called flor-de-papel
PLANT SOCIETIES
BOUGAINVILLEA - A FAST GROWING CLIMBER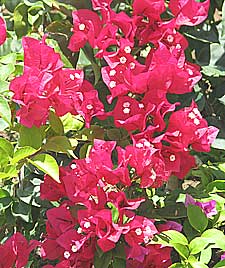 The Bougainvilleas are woody, leaf-losing climbing plants, flowering in summer and autumn in cooler climates.
In a warm climate Bougainvillea are fast growing and will flower all year round.
In the UK Bougainvillea thrives best in a warm, moist greenhouse, but the common kind, Bougainvillea Glabra, can be successfully grown in a frost-proof greenhouse or conservatory.
Locarno in Switzerland, which has a mild Mediterranean type of climate, is famous for its magnificent bougainvilleas.
Bougainvillea glabra, though really a vigorous climber, can be grown in a 9-inch pot by adopting a system of hard pruning each year in winter or early spring.
PROPAGATION OF BOUGAINVILLEA - TAKING CUTTINGS
Propagation of Bouganvillea is easily done by taking cuttings, 3 - 4 inches long, made of the semi-woody young shoots, during July or early August; they are inserted in pots of sandy soil and placed in a closed propagating frame.
FLOWERING OF BOUGAINVILLA
Bouganvillea will tend to flower all year round in equatorial regions. Elsewhere in the world they flower seasonally, with flowering cycles typically lasting for four - six weeks.
TYPES OF SOIL FOR GROWING BOUGAINVILLEA
It is necessary to provide a bed of loamy soil on the greenhouse floor for Bougainvillea plants; it should consist of fibrous loam, a little leaf-mould or peat, and plenty of coarse sand, adding some decayed manure, bonemeal or hop manure.
Bougainvillea will grow best in very bright sunny position and need frequent feeding with fertiliser.
HOW TO TAKE CARE OF BOUGAINVILLEA
Bougainvillea require little water once the plants are established in the garden or greenhouse, and in fact will not flourish if over-watered.
The previous summer's shoots are cut back to within two or three buds of the old wood in February, when new growth is about to recommence.

---
---
GARDENING ADVICE AND ARTICLES ON GARDEN GROWER
Bougainvillea care, how to grow a bougainvillea plant. Expert advice on care and cultivation of Bougainvillea a fast growing flowering climber also grown in a greenhouse and conservatories in colder climates. Pictures of Bougainvillea