PRUNING HONEYSUCKLE
A guide to pruning honeysuckle, which promotes healthy growth and keeps your garden looking tidy!
National Collections of Honeysuckle
Dr TM Upson
Cambridge University Botanic Garden
Cory Lodge,
Bateman Street
Cambridge,
Cambridgeshire
CB2 1JF
Telephone : 01223 336265
PRUNING HONEYSUCKLE - LONICERA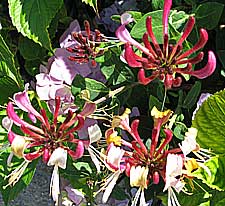 Pruning or hard cutting back of growth helps restrict the spread of climbing honeysuckle plants but you can also leave them to scale a tree or ramble over a high wall.
There are two main types of honeysuckle (lonicera) - which require different pruning techniques.
One, like the summer-flowering evergreen Japanese honeysuckle, Lonicera japonica, produces its flowers on the current season's growth.
It should be clipped over with shears in spring in March or April as it starts into growth, just to keep it tidy and encourage new growth.
PRUNING DUTCH HONEYSUCKLE
The other type of honeysuckle includes the very popular early and late Dutch honeysuckle (Lonicera periclymenum 'Serotina' and 'Belgica') with larger, scented flowers - pink and cream, and crimson and cream respectively - borne on side shoots produced from the previous season's growth.
This type should be trimmed or pruned immediately after flowering - remove about a third of the growth.
STIMULATING BUSHY GROWTH
To stimulate bushy growth in newly planted honeysuckles regularly pinch out the growing tips.
PRUNING AN OLD OR NEGLECTED HONEYSUCKLE PLANT
The ideal time to prune a neglected old honeysuckle is early spring for the first type, or after flowering for the second.
However, timing is not vital as you probably won't get many - if any - flowers the season after a very severe pruning.
To prune neglected honeysuckle, first untie it from its supports and, if possible, lay it flat on the ground.
Untangle the honeysuckle stems and braches, cutting out some of the oldest growths, either to the base or to just above a point where strong, young growth is emerging.
Then tie the remaining growths to a support, fanning the stems out out as evenly as possible.

OTHER USEFUL ARTICLES ON GARDEN GROWER
Expert advice on pruning Honeysuckle - how to prune and cut back growth of overgrown old or neglected honeysuckle plants. When to trim and prune honeysuckle to encourage flowering of Honeysuckle.