TENDING AND CARE OF ASPARAGUS CROWNS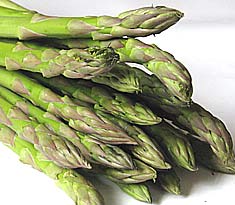 Do not cut any asparagus spears in the first season.
Hoe lightly to keep the weeds down and apply manures and fertilizers.
Cut some of the thicker asparagus stems in the second season but not more than one from each plant.
In the third year cut all the asparagus spears that appear, but stop cutting five weeks after the first cut.
In the fourth season continue cutting asparagus for six weeks and all following seasons.
When the asparagus shoots are about 10cm (3-4in) above ground cut them. If you leave to grow any more in height they will be woody. Cut the stalks at about 10cm below the ground.
In the third year, draw the soil over the stems in early spring to blanch them.
WEED CONTROL IN ASPARAGUS BEDS
Regular weeding of asparagus beds is essential.
Perennial weeds must be kept clear of the intended asparagus beds - never plant asparagus crowns in soil known to be infested with thistles, nettles, docks or convolvulus.
Eliminate these with a selective weed killer during the summer - more than one application if necessary.
HARVESTING - CUTTING ASPARAGUS
Use a long narrow knife or a special asparagus knife with a serrated edge for cutting asparagus.
Be careful not to cut so low that the asparagus crowns are damaged.
In the early part of the season (early May) cut every two days and every day as the weather gets warmer.
COOKING AND STORING ASPARAGUS
For best results the fresh asparagus spears you have just cut should be cooked within two hours.
You can store asparagus in the fridge for a few days, or in the freezer for future use.
CONTINUNG CARE OF ASPARAGUS PLANTS
Stop the cutting in early June and let the stems grow to their full height and produce asparagus fern.
If the asparagus is in an exposed place support the fern growth with string and steaks down each row - if the wind rocks the plants and the asparagus roots are loosened water can penetrate and rot them.
In summer pick the berries from the asparagus ferns before they are allowed to ripen and fall to the ground to germinate - these useless seedlings are difficult to eradicate.
In October, when the asparagus leaves turn yellow, remove any supports and cut the stems down to the ridge level. This will provide new shoots in April.
Compost the foliage.
GARDENING ARTICLES AND RESOURCES ON GARDEN GROWER