TREE SURGEONS AND TREE MAINTENANCE SERVICES IN HEREFORDSHIRE
A good professionally qualified tree surgeon will be able to expertly remove mature and very large trees. This will be much safer and more efficient than trying to carry out the job yourself.
They will probably have specialist lowering equipment and be familiar with the techniques required to cope with dangerous trees.
Cranes can sometimes be hired when necessary to ensure that a tree felling or pruning job is carried out in the safest way possible. Safety is the highest priority when felling a tree.
Most tree care specialists will offer a stump removal service to finish off a job properly.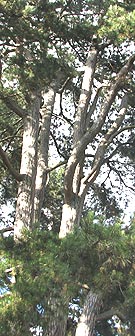 Removing branches of trees incorrectly can damage and sometimes even kill the tree.
GARDEN SUPPLIES
GROWING GUIDES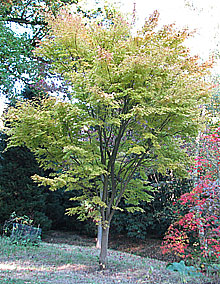 Herefordshire Tree Surgeons and Tree Maintenance Specialists
Tree care consultants and professinal arboricultural companies providing domestic and commercial tree surgery and tree work services including tree pruning, coppicing, stump grinding and tree stump removal, dead wooding, branch lopping and pruning, tree felling and tree and shrub removal.
Tree work Services in the Hereford, Kington, Ross-On-Wye, Ledbury, Grafton, Eardisland, Leominster areas of Herefordshire.
Adrian Hope Tree Services - Much Marcle
All Aspects Of Tree Surgery - Tree inspections and Reports
Much Marcle, Ledbury Tel: 01531 660557
Anchor Point - Hereford
Anchor Point undertakes all aspects of expert tree care from small gardens to woodlands.
Oak House, Hereford, Herefordshire HR2 8PF
Phone: 01981 580409
Arbortech Tree Care - Hereford
Arbortech Tree Care inspect trees and provide advice. Services include crown reductions, branch thinning, felling saw milling and the provision of a wide range of timber and bi products. Provide a bespoke service for specific tree pruning to resolve problems
Beehive Cottage, Burghill, Hereford HR4 7AW
Phone :01432 761077 Mobile: 07787 100236
Apple Garden Care - Ledbury
Nuttall Cottage, Much Marcle, Ledbury, Herefordshire HR8 2PG Phone: 01531 660405
---
---
Biosphere - Grafton
Grafton Lodge, Grafton, Hereford, Herefordshire HR2 8BL
Phone: 01432 353399
Cedarwood Tree Care - Wormbridge
Tree Care Consultants Health and Condition Reports Expert Witness Reports Tree Reports For Mortgages
Howton Grove House, Wormbridge, Hereford HR2 9DY
Telephone: 01981 570426
Clive Williams – Kington
Tree Surgeon
8 Gravel Hill, Kington, Herefordshire HR5 3BS
Phone: 01544 230503
Countrywide Grounds Maintenance - Leominster
Nordan Farm, Nordan, Leominster, Herefordshire HR6 0AJ
Phone: 01568 616961
Daniel Squire – Hereford
Domestic and Commercial Fencing and Tree work.
1 Claston Cottages, Hereford, Herefordshire HR1 4EA
Phone: 01432 851173 Mobile: 07710 427836
Edwards Tree Surgery - Leominster
Complete Tree Work Service Provider
Luston, Leominster HR6
Phone: 01568 610888 Mobile: 07855 353306
Forestry Operations Tree Surgery - Ross-On-Wye
Tree surgery, hedges, Pruning, Protected trees, Stumps ground, Qualified and experienced staff. Quotations, Home owners and businesses, Caring for trees since 1984.
Bamford Cottages, Ross-On-Wye, Herefordshire HR9 7TT
Phone: 01989 780412
Green Elm - Eardisland
11 Green Elms, Eardisland, Leominster HR6 9BL
Phone: 07800 922662
Garden Grower Gardening Advice
Herefordshire Tree Care - Tree Surgeons Arborists and Arboriculture Companies, businesses and specialist contractors providing specialist tree care services, tree felling and stump removal, coppicing, surveys, hedge pruning and trimming, tree reports, deadwooding, stump grinder hire in all areas of Herefordshire.