BEETROOT
BEETROOT - MINERAL DEFICIENCIES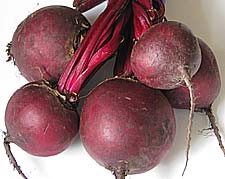 Beetroot can be susceptible to mineral deficiencies.
Some yellowing between the veins of older leaves can indicate a manganese deficiency.
To help with this problem spray the affected beetroot leaves with manganese sulphate- 2 oz to 2 and a half gallons of water with a little detergent to act as a spreader.
Beetroot roots with grey or brown patches in the fleshy parts, can indicate a boron deficiency.
To help with this problem apply 1 oz of borax bulked up with light sand to 20 square yards of soil.
WILTING SEEDLINGS
If the beetroot seedlings rot and collapse at ground level try watering with zineb or chestnut compound.
Prevent beetroot seedlings from wilting and rotting by using sterilized compost, clean pots, thin sowing and careful watering.
PESTS THAT ATTCK BEETROOT
Other general soil pests including cut worm may attack a beetroot crop in the vegetable garden.

GARDENING ARTICLES AND RESOURCES ON GARDEN GROWER
Beetroot - mineral deficiencies, pests and diseases, how to treat problems and affected plants in the vegetable garden and prevent beetroot seedlings from rotting