Berkshire Chainsaw Supplies, Sales, Hire, Spares, Repairs and Servicing.
Where to buy a chainsaw in Berkshire. Retailers, garden centres, shops, stores, stockists and selling and hiring all makes and models of chainsaw including Stihl, Ryobi, Spear and Jackson, Black and Decker, Makita, Husqvarna,Alpina chainsaws. Stockists of chainsaw spares.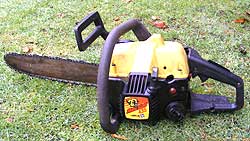 Businesses and companies selling and repairing Chainsaws in Newbury, Bradfield, Reading, Pangbourne, Beenham Hill, Thatcham, Maidenhead, Windsor, Hungerford, Slough, Bracknell, Aldermaston, Twyford, Wokingham in, close to and near Berkshire, UK
Aldermaston Tool Company – Aldermaston
Power Tools For Professionals, Largest Showroom In The South, Sales, Repairs, Accessories, Leading Brands Stocked, Open 6 Days, Mail Order Service Available.
47, Youngs Industrial Estate, Paices Hill, Aldermaston, Reading, Berkshire RG7 4PW Phone: 0118 981 1470
Archway Lawnmowers – Windsor
Lawnmowers Tractors Chainsaws, Hayter, Honda, Allen, Atco-Qualcast, Stihl, Expert Sales and Service Advice, Over 15 Years In Windsor, Delivery, Warranty and Repairs.
Archway House, Fairacres Industrial Estate, Dedworth Road, Windsor, Berkshire SL4 4LE Phone: 01753 621581
---
---
Baydon Mowers _ Hungerford
Sales, Service, Repairs, All Garden Machinery, Countax, Lawnflight, Stihl, Lawnmowers, Chainsaws, Strimmers, Tractors, Ride Ons, Used Lawnmowers, Wolfgarten.
Farncombe Farm, Baydon Road, Lambourn, Hungerford, Berkshire RG17 7BN Phone: 01488 71333
Berkshire Chainsaws and Garden Machinery – Beenham Hill
Sales, Repairs and Servicing, Sharpening, Climbing Equipment, Lawn Mowers, Hedge Cutters, Blowers, Chainsaws, Oil, Domestic and Commercial Work, STIHL, John Deere, Hayter.
Field Barn Farm, Beenham Hill, Berkshire, Reading,
Berkshire RG7 5LT Phone: 0118 9072907
Berkshire Garden Machinery – Twyford
Competitive Prices, Sales, Service, Repairs, Lawnmowers, Trimmers, Chainsaws, Hedge Cutters, Chipper, Shredder, Hayter, Stihl, Tanaka, Masport, Contact John Hambleton.
Primrose Nurseries, London Road, Hare Hatch, Twyford, Berkshire RG10 9RS Phone: 0118 940 4754
BSB Garden Machinery – Pangbourne
Lawnmowers and Garden Machinery, Sales, Service, Repair, Spares, Chainsaws and Log Splitters, Collection and Delivery Service, Go Carts, Shredders, Chippers, Hedge and Brush Cutters.
Home Farm, Sulham Lane, Pangbourne, Reading,
Berkshire RG8 8DT Phone: 0118 907 7743
Drews Limited – Reading
Plumbing and Fixings, Safety Footwear, Ironmongery, Fixings and Fasteners, Hardware,Hand and Power Tools, Painting and Decorating Material.
71-73, Caversham Road, Reading, Berkshire RG1 8JA
Phone: 0118 957 2053
Fairoak Machinery – Newbury
Mowers, Shredders, Chain Saws, Twin Cut Generators Strimmers, Cultivators, Bush Cutters, Hayter - Murray – Tanaka,Iseki - Simplicity Mountfield. Established 20 Years,
Yew Tree Farm Garden Centre, Hat Common, East Woodhay, Newbury, Berkshire RG20 0NG Phone: 01635 254533
I Dean Garden Machinery Repairs – Wokingham
Repairs and Fixed Price Service, Collect and Deliver Back To You, New And Used Equiptment Sales, Sales For Stihl Products, Parts For All Machinery, Hayter, Mountfield, Honda.
435, Finchampstead Road, Finchampstead, Wokingham, Berkshire RG40 3RJ Phone: 0118 327 7875
Kalehurst Garden Machinery Limited – Thatcham
Garden and Estate Machinery, Sales, Service, Parts and Repair, Mowers, Ride Ons, Tractors, Chain Saws , Hedge Trimmers, Main Dealers For John Deere, Husqvarna, Hayter, STIHL.
within Hilliers Garden Centre, Priors Court Road, Hermitage, Thatcham, Berkshire RG18 9TG Phone: 01635 201623
Newbury Tools Limited – Newbury
Tool Sales, Hire and Repairs, Full Range Of Accessories, All Leading Makes and Models, Local Delivery, Easy Parking, Independent Company.
1, Hambridge Road, Newbury, Berkshire RG14 5SS
Phone: 01635 30804
Oakleaf Garden and Estate Machinery – Bradfield
Sales Service and Repairs, Chainsaws - Hedge Trimmers, Briggs and Stratton, Hayter, Stihl, Lawnmowers - Ride On Tractors, Established 19 Years, Atco, Qualcast, Bosch, Westwood.
Hewins Wood Farm, Ashampstead Road, Bradfield, Reading, Berkshire RG7 6DH Phone: 0118 372 5258
R.A. and M.D. Butler – Thatcham
Chainsaws and Hedge Trimmers, Garden Machinery and Spare Parts, Protective Clothing, NPTC Training Courses, Advice, Ample Parking.
Murrays Service Station, Ashford Hill, Thatcham,
Berkshire RG19 8BQ Phone: 0118 907 8843
Sonning Mowers – Reading
Sales, Service and Repair, All Makes and Models, Free Pick Up And Delivery, Free Estimates, Free Ample Parking, Mobile Mechanic Available.
1 Sonning Lane, Sonning, Reading, Berkshire RG4 6US
Phone: 0118 9461187
The Mower Shop – Maidenhead
Mowers, tractors, shredders, Hedge cutters, strimmers, Chain saws , sales and service, New and used mowers, Collection and delivery, Part exchange available.
Fullers Yard, Sheephouse Road, Maidenhead,
Berkshire SL6 8HA Phone: 01628 635159
Waterside – Slough
Commercial, Domestic, Garden Tool Servicing, Lawnmowers, Strimmers, Chainsaws, Friendly and Reliable.
13 Alderbury Road, Langley, Slough, Berkshire SL3 8DQ
Phone: 01753 303685
Wokingham Tools – Reading
Sales, Repairs and Hire, Dewalt, Bosch, Makita, Fein, Festool, Paslode, Panasonic, Hitachi, Trend and Others, Trade Discounts, Great Prices, Trading Over 30 Years.
97 - 99, Wokingham Road, Reading, Berkshire RG6 1LH
Phone: 0118 907 8771
Berkshire Chainsaw Suppliers, Repairs, Spares, Supplies, Sales, Chainsaw Servicing, Chainsaw Hire. Where to buy or hire a chainsaw in or near Berkshire . Garden centres stores, suppliers, shops, retailers, companies and stockists selling and repairing all types, kinds makes and models of petrol chainsaws electric chainsaws and chainsaw spares for sale in Berkshire .