DARWIN TULIPS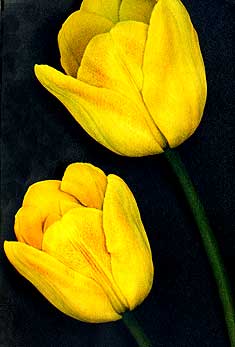 Among the many races which comprise the great tulip family none is more important than the Darwin Tulip.
The history of Darwin Tulips starts when they were first commercially launched in 1899 by a Messrs. Krelage and Son, of Haarlem in The Netherlands . They had obtained permission to use the name Darwin from Charles Darwin's son.
Their origin was of old Dutch stock.
These Darwin Tulips arrived at a period when the culture of tulips outdoors was just being taken up with an enthusiasm which has never waned.
VIGOROUS GROWING TULIPS
But these new tulips had something more than the stimulus of fashion to ensure their success.
Very vigorous growing tulips, with tall strong stems and flowers of pronounced substance and good colours, they proved themselves superior to most - standing up to the weather of an English May - they promised colour of the brightest in abundance at a season when it was most wanted.
Many of them proved amenable to forcing, all were good for cutting and it was soon found that should their places be needed for summer flowers they could be lifted as soon as the petals had fallen and transferred to ripening ground without loss, provided roots and leaves were not injured.
Though there is a good deal of overlapping in form and colour with other tulips, the ideal Darwin Tulip has substantial petals, rounded at the top, giving a blunt cup-shaped flower and "square" outline.
VARIETIES OF DARWIN TULIPS
Varieties run into several hundreds, the colour range embracing white to blush, red, lilac, mauve, purple, crimson, violet purples and maroon, while later creations include some fine yellows of which Golden Age, shown in colour, is representative.
SELF COLOURED
All true Darwins are self-coloured, but they provide in their offshoot the Rembrandts, striped or blotched varieties and in Mendels and Triumphs we have Darwin hybrids which have made their mark as indoor winter bloomers.
It is possible that the success of the Darwin tulip has contributed to its demise.
In the early 20th century Cottage and Darwin tulips often interbred and separation has become increasingly meaningless.
DARWIN HYBRIDS
Darwin Hybrids were created by crossing Fosteriana Tulips with Darwin Tulips.
Darwin Hybrid Tulips are among the tallest tulips available to grow in the garden.
OTHER USEFUL ARTICLES ON GARDEN GROWER
A guide to Darwin Tulips - vigorous growing tulips, with tall strong stems and flowers of substance and good colours. Varieties and colour range from white to blush, red, purple, crimson and maroon